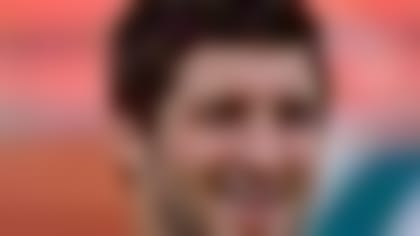 Tim Tebow's game highlights needs a home. Tebow Zone compiles every highlight, from every game for your viewing pleasure. More ...
The San Francisco 49ers' cornerback watched the Jets slowly but steadily implode in a 34-0 loss in Week 4 and ruled harshly against Gang Green's effort. "They didn't want to be out there," Rogers said. "And after that it's like, man, these guys don't really want to play the game."
Pettine dropped Rogers' soliloquy into a PowerPoint presentation and allowed New York's defensive unit to drink the words up during what must have been a delightful team meeting this week. Pettine said the response was silence, at least externally.
"When it comes from a peer," Pettine told The Associated Press, "you have to kind of stop yourself."
Pettine said he didn't see the Jets quit on the game film, but acknowledged they were "worn down" and said tweaks are needed: "The guys in the room know what it's supposed to look like."
It's hard not to sympathize with the long-suffering Jets fan base after seeing Darrelle Revis and Santonio Holmes ripped away for the season. We'd also argue that no Jets player should require the magic of Microsoft PowerPoint to light a fire within. After all, this is the franchise that's eaten up thousands of minutes of the public's attention in all media formats, hinting that they're ready to deliver on long-spoken promises and guarantees.
Maybe it's time to look elsewhere for entertainment.