"Hopefully, (coach) Chip (Kelly) makes a decision before training camp, and we won't have to answer that question," Vick told Comcast SportsNet Philadelphia on Thursday, "so we can go out there as quarterbacks and just focus on this season and not answer questions about competition every day."
Debate: Most enticing QB battle?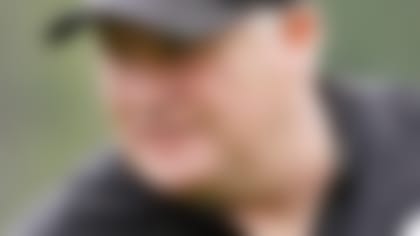 Which team has the most intriguing quarterback competition: the tabloid-friendly Jets or Chip Kelly's Eagles? **More ...**
The obvious reaction: Kelly is very unlikely to name a starter by camp. So how will Vick respond then?
"I won't want to continue to answer those questions," Vick said. "I won't continue to answer those questions until Chip makes a decision."
"It's tough," Vick said after the Eagles' mandatory minicamp ended. "I have to continue to be a professional and put my feelings and emotions to the side and just continue to compete. But it's hard. I would be lying if I said it wasn't, but that's just what I have to deal with, and I'm going to keep dealing with it until I see otherwise."
Any quarterback would be lying if he said he liked splitting reps, so we don't think those comments amounted to much. But Vick's request for Kelly to make a decision is different. The comments sure sound like Vick trying to send a message to his coach. It sounds like Vick is growing increasingly frustrated with the fact that Nick Foleshas a legitimate chance to win the starting job.
Vick and Kelly haven't spoken about the quarterback's feelings, but Kelly is sure to know soon. And the message might not be well received. Vick said he isn't worried about any backlash if he stops answering questions about the quarterback competition.
"Why not? Who cares?" Vick told CSNPhilly.com. "Y'all (in the media) kill me anyway, whether it's right or wrong."
Vick should be more concerned about his coach's reaction. Kelly might not appreciate messages being sent through the media.
The CSNPhilly.com reporter showed Vick the quotes after he said them and reminded the quarterback that he was speaking on the record. Vick responded by asking the reporter to print his request that Kelly settle on a starter.
Now that's sending a message.