What has new coach Chip Kelly brought to Eagles practices? Speed, speed and more speed, Albert Breer says. **More ...**
"I was very surprised because I didn't try to say it in a derogatory way where I felt like coach should make a decision or there's pressure on him to make a decision," Vick said at Jeremy Maclin's football camp, via Philadelphia Magazine's 24/7 Eagles blog. "I was just asked a question, and I answered it the best way that I could. But coach is totally involved in our team and what we've got going on and what needs to be done.
"Like I said, we're all going to sit back and make sure that we do exactly what he asks us to do, regardless of who's out there on the field."
It's hard to believe Vick didn't realize that his comments would make an impact. He was asked by a reporter at the time if his quotes were on the record. Vick responded, asking the writer to print them. The quotes got Kelly's attention and the coach called Vick the next day.
"Coach is just so straightforward," Vick said. "After the first four or five words, you already understand and know where he's coming from. So we talked the next day, and I sent him a text and he called me back and we talked and that was it.
Debate: Most enticing QB battle?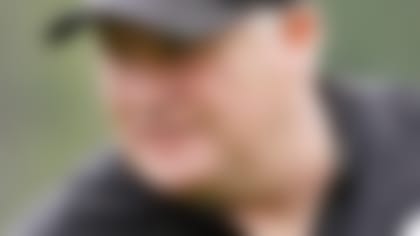 Which team has the most intriguing quarterback competition: the tabloid-friendly Jets or Chip Kelly's Eagles? **More ...**
"Like I said, everybody on that football team respects coach Kelly and likes what he's been able to accomplish so far," Vick added. "He's grabbing the attention of everybody on our football team."
It's only the offseason, but Kelly seemingly passed his first test running an NFL team. He has the respect -- and attention -- of the men he's coaching. There's no doubt who is in charge in Philadelphia.