Former New York Giants defensive end Michael Strahan is watched by millions of football fans every Sunday during FOX's pregame show. Now, he'll be watched by a slightly difference audience every morning.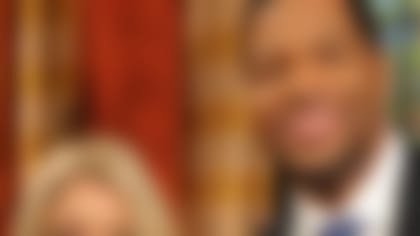 Michael Strahan is hardly the first NFL player to appear on a morning talk show. Check out a photo gallery of their appearances. More ...
Strahan's new gig as Kelly Ripa's co-host on "Live with Kelly and Michael" was officially confirmed on his first day of work Tuesday.
"I am speechless," Strahan said via ET online. "I am so happy to be here and be a part of this. You know how you say it's a dream come true, but I truly can't say that I ever even dreamed this."
This is huge news for absolutely no one we know, but it's hard not see the irony of Strahan getting such a gig while Tiki Barber's media career flounders. Strahan and Barber famously warred in public about contract negotiations when they were both Giants.
Now just a few years after Barber wanted to be like Matt Lauer, Strahan is the one providing some competition for the Today show.