The early reviews of Michael Strahan have been really positive for "Live!" Surprisingly good. I was talking to some lady about the show at A Slice of New York in Huntington Beach, Calif., the other day and she said, "I really like that Michael on Regis and Kelly. I hear he played football, is that true?"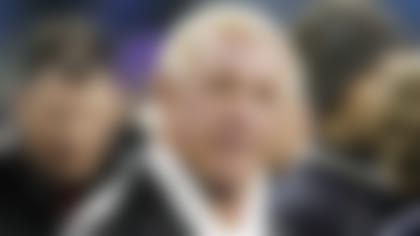 Yes lady, it is true. And it's also true Regis has been gone for a year and it's just now "Live with Kelly and Michael."
I don't think she cared for my tone, and she politely excused herself.
You want to know who didn't make the list? Tiki Barber. Because this list has taste.
Noted Around the League scribe Dan Hanzus made an astute observation on the Dave Dameshek Football Program this week when he pointed out Barber must be the most morose (expletive) in the world because Strahan got the job he always coveted going back to when he retired early from the Giants to pursue a career in TV.
And without further ado ...


Fran Tarkenton
Many of you kids likely recognize Tarkenton as a pitchman on those late-night TV commercials or ripping Brett Favre like a lovable old coot. But he was a pretty successful broadcaster after his playing days. Tarkenton did one year of "Monday Night Football," but he will always be remembered for being one third of the "That's Incredible!" dream team of Kathy Lee Crosby and John Davidson.
   </div> 

*


Kurt Warner
Oh yes, many of you forgot Warner played for the New York Giants. You might have also forgotten the Giants had a winning record when he was removed as starting quarterback in favor of Eli Manning. But Warner has been a fixture on NFL Network since retiring from the Arizona Cardinals and he's been killing it ever since.
   </div> 

*


Phil Simms
I get flack for this all of the time, but I like Simms in the broadcast booth with Jim Nantz. Yeah, the "All-Iron" team is a little bit too much of a John Madden rip off, but it's still good. And, along with "Dexter" and now "Homeland," his show "Inside the NFL" is one of the main reasons I keep Showtime.
   </div> 

*


Frank Gifford
To hear people talk, Gifford rivaled Mickey Mantle as the most popular New York athlete in the 1950s, and he had a successful TV career after, most notably as a long-time analyst on "Monday Night Football." And wait a minute, think about this: Gifford's wife, Kathy Lee was the long-time partner of Regis Philbin -- the guy Strahan replaced. That just blew my mind.
   </div> 

*


Michael Strahan
Strahan has vaulted into the No. 2 spot. Even before he was picked to be the permanent replacement for Regis, Strahan's star was on the rise as a studio analyst for FOX's pregame show. And if it's all the same to you, I think we should make a pact to erase the show "Brothers" from our collective memory. Capisce?
   </div> 

*


Pat Summerall
Summerall and John Madden were the preeminent broadcast team, probably ever. When you were a kid, if Summerall and Madden were calling your game, you knew it was a big-time event. Either that, or your favorite team was playing the Dallas Cowboys. But Summerall is the tops, and an appearance as himself in "The Replacements" means his legend will live on forever, or at least in TBS reruns.