"I'd love to see (DeSean Jackson) out there," Schaub said Monday on Sirius XM NFL Radio. "He's a phenomenal talent, a great player. The times I've been around him, a great guy.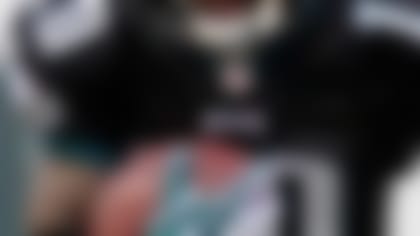 Stay up-to-date with all the latest news and rumors behind DeSean Jackson's potential destinations with our DJax tracker. More...
"I think he can add a lot to any team, especially ours in Oakland and really think he can be a big help to what we're trying to build and I'd love to have him at my disposal as a receiver."
We believe the Raiders are the most likely team to add Jackson because they have the salary-cap room to give Jackson the contract he'll want. (And they have a desperate need to add explosiveness to the offense.)
We question, however, whether Schaub is the guy to get Jackson the ball. DeSean's best trait is taking the top off a defense. Schaub was never great at throwing the deep ball, and his arm looked particularly shot late in the 2012 season and throughout last season. He doesn't appear to have confidence in his deep ball.
Jackson might get the best contract offer from Oakland in the end, but there has to be some concern that the Raiders don't have anyone who can get him the ball.