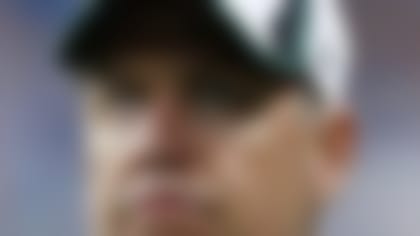 The decision caps an ugly week for Jets rookie passer Geno Smith, who tossed four interceptions in 11-on-11 and 7-on-7 drills during Wednesday's practice. Coach Rex Ryan on Wednesday called it a "brutal" outing and acknowledged on a Thursday conference call he "can't say" if Smith's nagging right ankle might force the rookie to sit out the Jaguars tilt.
Ryan confirmed Thursday that Sanchez and the starters will play the first half against the Jaguars. Asked whether Smith -- if he plays -- will have a chance for snaps with the first team, Rex said, "We'll see."
Handing Sanchez two straight preseason starts never was the plan in Gotham.
Manish Mehta of the New York Daily News wrote Thursday that first-year general manager John Idzik "let his desire for Smith to win the competition cloud the bigger picture."
By putting Geno back on the practice field before he was 100 percent, Idzik, Mehta argued, "unwittingly sabotaged the open and fair competition."
Even after Smith's dire Wednesday session on the hobbled ankle, the rookie's practice totals -- 70-of-124 passing, 10 touchdowns, five interceptions -- were nearly a mirror image of what Sanchez -- 71-of-125 passing, 10 touchdowns, four picks -- has produced during his fifth NFL training camp.
The two are neck-and-neck in practice numbers, but if Sanchez lights it up against the Jaguars, how do the Jets wheel out Smith to start the critical Week 3 preseason matchup against the Giants? The waters are muddied.
Ryan has been tethered to Sanchez, for better or worse, since 2009, but Idzik played his hand in April, handpicking Smith to guide the team into the future.
A string of botched decisions has put Geno's savior act on hold, and Sanchez has the Jets' front office to thank for it.