Gang Green's two-headed passing monster was far from a thing of beauty Saturday night.
*Sanchez leads offense into the abyss*
The Jets plan a return to the ground this season. As the team's starting quarterback, Sanchez is being asked to manage games and avoid turnovers.
None of this happened with any success against the Giants. Six drives for Sanchez led to zero points, just 59 passing yards and a savaging by Big Blue's defensive line.
Schein: Why Rex will get a ring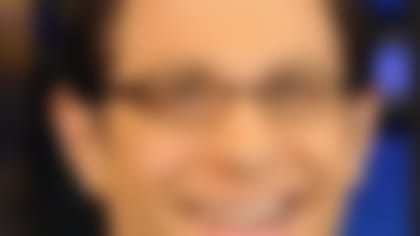 Coach Ryan talked about "self-inflicted wounds" at halftime, possibly a code word for left tackle Wayne Hunter, who gave up four sacks on the night. Giants defensive linemen Jason Pierre-Paul, Osi Umenyiora and Justin Tuck all got to Sanchez during a string of silent, fruitless marches for the Jets.
This offensive line is a concern, unable to protect the quarterback or hold its ground in short-yardage situations.
The Jets plodded into Giants territory late in the half, but the drive was cut short when Sanchez floated a pass to rookie defensive back Jayron Hosley, who returned it 77 yards for a touchdown and a 13-0 lead. Night over.
Tebow fails to pull them out
Tebow started the second half and delivered the Jets' first scoring drive on a 14-play, 68-yard march that chewed nearly nine minutes off the clock.
We saw good and bad. Tebow connected with rookie wide receiver Stephen Hill on his first pass of the night, but the pair later combined for a messy gaffe in Giants territory. On second-and-long, Tebow had Hill wide open in the end zone. With nobody in the zip code, Tebow floated a pass that fluttered short, forcing Hill to leap forward for it. No dice. That's not a throw you see an NFL quarterback miss.
On the following series, Tebow sailed a pass into the flat that -- like a happy kite -- left the field and nearly pegged Jets cornerback Darrelle Revis, who was huddled off to the side in a TV interview.
Tebow finished 5-of-14 passing for 69 yards. Incidentally, Antonio Cromartie failed to take an offensive snap, and the game passed without a Wildcat sighting, but it's hard to imagine how those gimmicks alone will transform this offense come autumn. The breathless Tebow-Sanchez commentary that dogged us all spring and summer (and we're guilty of it) has brought us to this.
Maybe the Jets will magically transform into an offensive terror when the calendar flips to September. On a night like tonight, something darker feels more sure.