As expected, Te'o is among 333 players who have been invited to the NFL Scouting Combine in Indianapolis from Feb. 23-26. If he does make the trip, Te'o will take part in a series of meticulously examined workout drills, though his true test would come behind closed doors when NFL teams meet with him and attempt to make sense of the "catfish" scandal that turned the linebacker into a household name.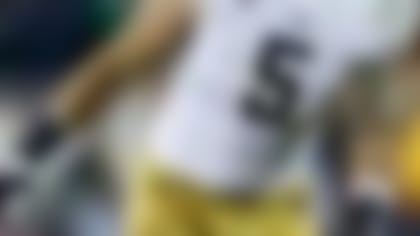 Te'o is far from the only subplot to watch for at the big event:
» For players who made the most of Senior Bowl week, the combine offers a golden opportunity to solidify their stock ahead of the 2013 NFL Draft at Radio City Music Hall. Standouts such as Washington cornerback Desmond Trufant and Central Michigan offensive tackle Eric Fisher almost can ensure themselves of top-10 real estate with a big week in Indy.
» Looking for an individual talent to keep tabs on at the combine? How about former Michigan quarterback Denard Robinson, who has been invited as a wide receiver. If Robinson were a piece of steak at Senior Bowl week, he'd be considered bloody rare. He'll have to make significant strides to prove himself to be more than a late-round flier.
» A combine-record 67 underclassmen have been invited. The group includes some big-time talent, too. In Bucky Brooks' latest mock draft, six of his first seven overall picks were underclassmen. The best of them might be Texas A&M offensive tackle Luke Joeckel, who could become the first overall pick.
» This widely is considered to be a weak quarterback class, but teams always are willing to take a shot at a signal-caller they believe in. Geno Smith and Matt Barkley are considered the best quarterbacks invited, but neither player is a slam dunk in the way Andrew Luck and Robert Griffin III were viewed a year ago. The combine can serve as a catapult into the first round, especially at this position.
» The deepest position of this class is along the defensive line. Those prospects will hit the field Monday, offering a glimpse at several potential top-10 picks. Studs from this group of invitees include defensive ends Bjoern Werner (Florida State), Damontre Moore (Texas A&M) and Barkevious Mingo (LSU) and tackle Star Lotulelei (Utah).
» Back to Te'o. It's hard to overstate how important this event would be for him. Teams would be able to form an opinion on both Te'o's physical skills and, more importantly, his mental head space. Te'o would be in for a week that would test his mind and vocal chords as much as his body.