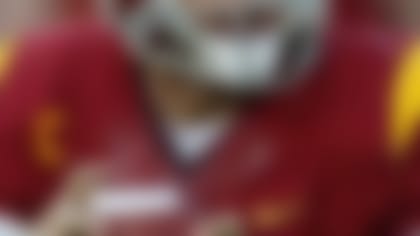 Catfishing nonsense aside, it was Te'o's sluggish 4.82-second 40-yard time at last month's combine in Indianapolis that raised doubts about his potential as a three-down linebacker. NFL Network's Mike Mayock, however, still sees first-round material.
"I believe it," Mayock told "NFL AM" on Tuesday from South Bend, Ind. "Here's what I think is going to happen. I think the interest in (Te'o) will start approximately at 19 with the Giants, 20 with Chicago. The real soft spot is Minnesota -- they have two first-round picks, 23 and 25. They lost their inside linebacker, Jasper Brinkley, to free agency, and their general manager, Rick Spielman, who's here by the way, has a history of drafting Notre Dame players that have played really well. So 23, 25 to me is a logical place, 28 to Denver perhaps, or even Baltimore at 32 because we know they have a big hole in the middle of that defense."
Added Mayock: "You either like this kid and you believe he's a three-down linebacker and hence worthy of a first-round pick, or you don't."
Mayock expects Te'o to produce a pro-day 40 time "somewhere in that 4.75, 4.8 range." That won't silence Te'o's critics, but his field speed -- and his ability to drop back against the pass -- matters most to teams. They also want to know what kind of person they're getting.
Prior to the phantom-girlfriend scandal, Te'o was seen in a different light, as a player whose teammates rallied around him. Mayock believes Te'o still can be a "galvanizing force in the locker room." A team like the Baltimore Ravens makes plenty of sense for Te'o as they replace old soldiers with fresh legs.
Tuesday's pro day obviously is critical for Te'o, but results aside, he needs one team to believe in him come draft day. That's going to happen.
UPDATE: Te'o accomplished what he needed to Tuesday. Mayock reported that Te'o ran an unofficial 4.75 seconds in the 40.