"I've always just been taught to run to the ball and good things will happen for me," Smith said Monday morning at his MVP news conference. "I played running back as a kid, so it's always been the most exciting thing to have the ball in my hands. I've always been trying to get to that point."
Defensive end Cliff Avril bull rushed, absolutely destroying Broncos right tackle Orlando Franklin. Avril then disengaged from his block, lunging at Broncos quarterback Peyton Manning as the quarterback cocked to throw. Avril subsequently hit Manning's arm on the release, sending the ball fluttering forward.
Avril's rush on this play was emblematic of the Seahawks' front four all night long. They harassed Manning incessantly. The front four recorded just one sack, but their pressure allowed others to make plays.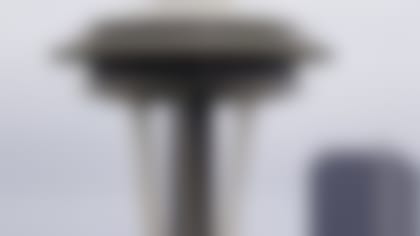 On NFL Network
Watch Seattle celebrate its first major sports title since 1979 on "NFL Total Access Special: Seahawks Victory Parade" Wednesday, Feb. 5, at 2 p.m. ET.
The action that illustrated the difference between the two teams during Sunday's game was the play made while Manning's attempted pass fluttered in the air.
Smith immediately made a jump at the ball, while running back Knowshon Moreno was caught on his heels and didn't make much of an effort to get to the ball. Not only did Moreno freeze, Smith made such a jump on the pass that the linebacker ended up a full yard ahead of the running back.
With Moreno out of position to make the tackle, Smith just had to outrun a few offensive linemen. Game: Blouses.
Then there was the celebratory goal-post dunk by Smith. It was the classic juxtaposition of a dynamic play followed by a humorous moment. Smith's celebration once again displayed that even the Seahawks' defenders who aren't the most athletic make a difference in their unit's success.