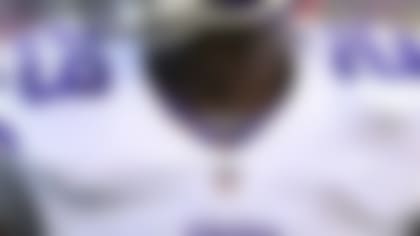 Hyperbole aside, the No. 5 overall pick in the 2013 NFL Draft makes this list for the same reason he was so highly rated coming out of BYU, despite only playing 31 games of organized football: his raw athleticism.
It's rare a player can impact an NFL game based solely on his physical gifts, with little-to-no visible technique. Yet in 2013 Ansah made plays thanks to his freakish athleticism and a motor that a Mustang would be proud to sport.
Watching the 6-foot-5, 271-pound defensive end on NFL Game Rewind, his natural tools jump off the screen when he's galloping around.
Ansah's play recognition was much better than I anticipated. He diagnosed and drove toward the ball with force. Even when he didn't make the tackle, scarce were the times Ansah wasn't in the screen when the play ended. Advertised as a raw edge rusher out of college, he actually ended up being a better run defender in his first season and he rarely got lost or fooled.
The video below of a Lions game against the Vikings displays two early-season examples of Ansah's awareness and disruption. In the first he immediately recognizes run and darts down the line to tackle Adrian Peterson, displaying a quick-twitch dash. Later he flaunted his explosiveness off the line, easily pushed past left tackle Matt Kalil and flushed Christian Ponder out of the pocket. He's not finished, however. Looking like a wild stallion, he bolts 12 yards upfield after the pass to aid in the tackle.
Ansah's game tape down the stretch showed vast improvement in understanding scheme, and that coaches trusted him enough to move him around the line with more frequency. Five of his eight sacks and 10 of his 19 tackles came after he returned in Week 12 from an ankle injury.
Having Ndamukong Suh and Nick Fairley in the middle would help most young pass rushers pick up stats. However, if Ansah adds any semblance of pass rushing technique, his already freakish athleticism and seemingly unrelenting motor will allow him to blossom into a disruptive force on the edge.
In the past year Ansah has dealt with a concussion, an abdomen injury, an ankle injury that cost him two full games and now offseason shoulder surgery. Missing OTAs and offseason work never is good for a young player who needs to learn the intricacies of the NFL game. The Lions hope being under defensive line coach Jim Washburn's care for a second season will help Ansah mitigate the lost time.
The biggest obstacle to Ansah blowing up in 2014 is a lack of technique. His pass rushing moves in Year 1 were as assorted as saltine crackers. Reviewing his film against strong left tackles with good hands and quick feet (i.e. Joe Thomas) felt like the equivalent of watching a player line up and hit a tackle sled for 56 plays. Ziggy must develop more than a bull rush and a straight-line attack from the Wide-9 technique. In addition, if he doesn't learn how to swat away a left tackle's hands to keep them off his body, he'll struggle to improve.
In reality, Ansah's eight-sack rookie performance is inflated, as he ran into half of them -- cleanup style -- thanks to his teammates and a revved motor. If he lets off the gas, his production will certainly not make a leap forward.
One benefit in 2014 is that Ansah doesn't face the dominant left tackles he was forced to take on during his rookie year.
At his right end position he faced four of Pro Football Focus' top five left tackles, three of whom made the Pro Bowl in 2013. Entering 2014, he doesn't face a top-10 left tackle until the New England Patriots' Nate Solder in Week 12.
While we expect him to spice up his repertoire, Ziggy's bull rush is still deadly, especially against some of the susceptible tackles he'll face in 2014. We also expect Washburn to move him around the line more in his second year to create mismatches with Suh and Fairley.
While we don't expect Ansah to leap as high as the Pro Bowl in Year 2, if he diversifies his pass rush, his circumstances will allow him to be a supremely disruptive force on the edge of a Detroit line that could be the most troublesome in the NFL.