Why Dunlap is on the list
Under the direction of defensive coordinator Mike Zimmer, the team's young defense has risen to prominence behind one of the nastiest lines in football.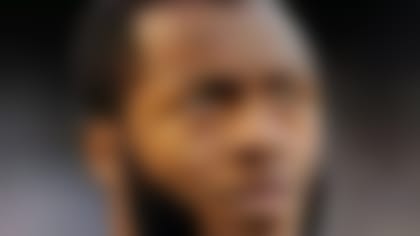 Of the team's 51 sacks last season, Geno Atkins, Michael Johnson and Carlos Dunlap combined for 30. Atkins and Johnson did the lion's share of the work, but Dunlap's six sacks were an improvement over his disappointing 4.5 from 2011. He's under plenty of pressure to up those totals in 2013.
Here's why: Atkins, Johnson and Dunlap each are in the final year of their contracts, and the historically thrifty Bengals are unlikely to re-sign all three. Extending Atkins is a no-brainer, but Johnson and Dunlap might be competing for dollars this season. While Johnson has started 30 games for the Bengals over the past four seasons, Dunlap has started just two since 2010. After lining up with the starters ahead of Robert Geathers in spring practices, it's time for Carlos to make his move.
At 6-foot-6 and 280 pounds, Dunlap stands out on film. He's massive but surprisingly quick. Watching the Bengals defense is engaging because of how Zimmer uses his pass rushers, and I love how Dunlap was set free to wreak havoc.
At his best, Dunlap last season was an aggressive, instinctual defender, who found ways to blow up plays and disrupt quarterbacks. He didn't match Johnson in sacks, but he averaged more pressures and hits per snap. Plays like the one above show what Dunlap is capable of doing.
Consistency comes to mind. After 9.5 sacks as a rookie in 2010, Dunlap battled injuries in 2011 and notched just 4.5 takedowns. Last season included flashes of dominance, but Dunlap needs to do it from snap to snap. That comes down to discipline.
On the play below, Dunlap's power in the trenches was on display, but so was his poor decision-making. He got to Blaine Gabbert in a hurry, only to commit a blatant facemask infraction.
Maybe I'm nitpicking, but this came on third-and-6 from Jacksonville's 12-yard line. The 15-yard flag kept the drive alive. This is how players lose opportunities.
It would be a disappointment to see Dunlap miss out on a starting gig this season. With 20 sacks in three seasons, there's a lot to like. Dunlap also has a nose for the ball, as exhibited by this 35-yard fumble recovery against the Indianapolis Colts in 2011.
Dunlap can be explosive. He piled up those 9.5 sacks in 2010 on just 287 snaps. His snap count increased to 423 in 2011 and 601 last season. I'm intrigued to see what he can do as an every-down player. On a top-shelf young defense, Dunlap has a chance to write his own script.