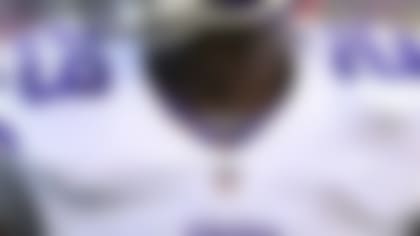 You could argue that Jones made the leap last season; it just took a while for Bengals offensive coordinator Jay Gruden to recognize it. After playing in fewer than 40 percent of the Bengals' snaps in the first half of the season, Jones was on the field 70 percent of the time in the team's final four weeks. He responded with a mix of subtle and sublime play.
Jones is a joy to watch. (It was hard to narrow down the highlights for this article.) I expected to see a pure vertical receiver when firing up NFL Game Rewind, but Jones was a complete player with few holes. He never gives up on a pass, no matter how wayward the throw from Andy Dalton. He can make sensational diving catches, and grab passes in traffic. He is a natural, fluid runner after the catch or when he's given the ball on a handoff.
The Bengals love to use Jones' athleticism in the red zone and on the sidelines. He has very consistent hands and showed the ability to break tackles in the open field despite his lanky frame. Playing across the field from Green is a gift, and Jones consistently takes advantage of his matchups.
It was tough to come up with a comparable player because it's rare to see someone so rangy with leaping skills also be so comfortable running after the catch. (Greg Jennings was the best we could come up with. Or a taller Santonio Holmes.) In short: Jones doesn't look like a former fifth-round pick.
Jones' second-year production (712 yards, 10 scores) is remarkable because it came from so few opportunities. That should change in 2014.
Jones trailed Mohamed Sanu by more than 200 snaps last year, and barely had half the snaps of A.J. Green. New offensive coordinator Hue Jackson appears to see Jones as a true No. 2 option, even challenging Jones to knock Green "off his pedestal." That's typical summer bombast from Jackson, but it's safe to expect Jones to see starter's snaps.
Many fans first learned about Jones during his outrageous four-touchdown game against the New York Jets last season. While that game was fun, it's not repeatable. Jackson's promotion should help the Bengals passing attack be more consistent on a weekly basis. After all, this is a coach who coaxed the Oakland Raiders to top 10 offenses in back-to-back seasons. Which brings us back to Dalton.
The Bengals have two deep threats to go with a quarterback who struggles to throw deep. This is troubling, and there's no denying that Dalton's development is paramount to Jones' success. It's hard to reach 1,000 yards just off spectacular diving catches. Jones needs to find some easy yards.
The Bengals committed to playing Jones more in Week 15, and he caught at least five passes in every game after that, including a 130-yard game in the team's playoff loss to the Chargers. Pace out Jones' stats from his last four games for an entire season, and he'd catch 92 passes with 1,296 yards and eight scores. That will be a tough pace to maintain, but 1,100 yards shouldn't be out of reach. Jones could nearly double his snaps from a year ago, and production will naturally follow.
With some Making the Leap candidates we are betting on the situation more than the player. Jones is on the list because he's simply too good to deny. Even the most common name and common quarterback shouldn't stop Jones' ascendancy.