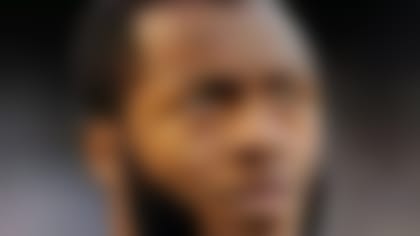 Why Thomas is on the list
I've been a Thomas believer for a while. (I made my first post at my former employer about Thomas in symbolic support.) He does so many things that don't get a lot of attention: slipping tackles, catching anything thrown his way and always finishing runs. Thomas' touchdown in the Saints' Super Bowl XLIV victory (above) is an example of why he is one of the best screen-pass catchers of his era.
More than anything, Thomas brings maximum effort every single play. He's the type of player who fans and coaches don't fully appreciate until he's gone. That's why I decided to choose most of Thomas' highlights for this post from only one game. This is the guy you get every week. The Pierre Thomas experience isn't always flashy, but it's effective:
Despite his size, Thomas is a great inside runner who isn't going to go down with an arm tackle. He gets a ton of yards after contact. ProFootballFocus.com has a measurement that determines a running back's elusiveness. Thomas ranked in the top 10 last season in elusiveness and yards after contact, and he didn't have a single drop in 45 targets.
I've never understood why Thomas doesn't get the ball more. He has averaged 108 carries and 45 catches over the last two seasons, despite the fact that just three active NFL running backs -- Jamaal Charles, Adrian Peterson and DeAngelo Williams -- have a higher career rushing average than Thomas' 4.8.
That usage potentially could change this year.
Thomas never will be a workhorse back in New Orleans, especially after the Saints selected Mark Ingram in the first round of the 2011 NFL Draft. Darren Sproles will receive his touches, and there are only so many carries to go around. Still, it wouldn't be a surprise if Thomas saw a jump in production this season.
The Saints never will give Thomas the ball 300 times, but his usage still could rise significantly. Perhaps Thomas isn't the best "big play" back in the league because of his long speed -- the play to the right is more the exception than the rule -- but he should get more chances.
Thomas made the Saints' roster as undrafted player in 2007. He has more experience than anyone on our "Making the Leap" list and admittedly is an odd choice as a breakout-type player. After all, he's already a certified Super Bowl hero who won't ever have to buy a drink in New Orleans again. He has topped 800 yards from scrimmage four times but has only risen above 1,000 once. He'd make the Role Player Pro Bowl every year for plays like the one to the right, but he's always battling just to get on the field.
Thomas is a supporting actor who has always had the chops to play a leading role if asked, and this is setting up as a season when Payton could give him more screen time.