Why Gilmore is on the list
Gilmore was one of our favorite defensive players in the NFL draft last season. He didn't get a lot of attention during a solid rookie season, but he looks just as promising one year later.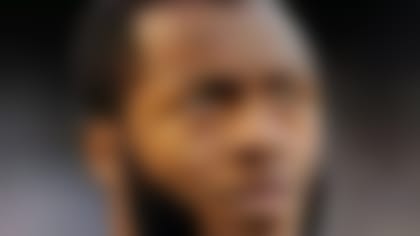 Gilmore, the No. 10 overall pick in the 2012 NFL Draft, led the Bills in defensive snaps last season by a good margin, missing fewer than two snaps per game. After some early missteps, he closed the season very strong. His problems are correctable and his strengths are difficult to find in a young cornerback. Gilmore is a physical cornerback with great coverage skills.
ProFootballFocus.com noted that Gilmore allowed just 53.5 percent of passes thrown at him to be completed in his final 11 games, with no touchdowns allowed. I watched three Gilmore games on NFL Game Rewind and was impressed by how often he would trail the opposing team's top receiver, like Reggie Wayne on the play below. Gilmore appears to turn the wrong way at one point, but his sticky coverage and excellent recovery skills allow him to make a play on the ball. This was a common theme in Gilmore's games: He could make up for a wrong step with closing speed to the ball.
Gilmore's rookie season wasn't without challenges. He often looked confused and gave up too many big plays early in the season. He got his hands on plenty of passes but couldn't covert them into turnovers. The play to the right was Gilmore's only pick of the season. He also forced two fumbles.
The South Carolina product ranks so high on our list, in large part, because his biggest problems are correctable. He incurred far too many penalties because of his over-aggressive play. That's a rookie mistake, but one that can be coached and improved with experience. It's hard to teach aggressiveness and pure cover skills. Gilmore excels at the most difficult part of the job -- he just needs refinement.
This especially is true as a run defender. Gilmore's size and tackling ability were seen as a strength coming out of college, and he's a willing hitter. But he missed way too many tackles and got blocked out of plays too easily. Offenses used Gilmore's aggression against him. Just like penalties, this is a part of Gilmore's game that can be corrected. He's a cornerback who likes to hit.
It's no small feat for a rookie cornerback to be a solid starter from Day 1, and Gilmore accomplished that last year. He belonged. This is the season when he should flourish into a difference-maker. Bills general manager Doug Whaley believes Gilmore made a leap this offseason, in large part because of his mental approach.
Gilmore is the type of cornerback who should end up making Pro Bowls sooner rather than later because his instincts should lead to turnovers. In the play to the right, Gilmore was in man-to-man coverage on the outside on New England Patriots wide receiver Brandon Lloyd. But Gilmore recognized the ball was headed deep to Rob Gronkowski, left his man and lit up Gronk to save a touchdown. A similar play happened later in the same game when Gilmore left his man to nearly intercept a pass in the end zone.
Those are the kinds of athletic coverage plays you can't teach. Gilmore has the tools to be one of the premier cornerbacks in the NFL. This is the season he should make the rest of the league take notice.