Whether or not he actually needs "fixing" as much as "fine-tuning" is debatable.
For Lions new offensive coordinator Joe Lombardi, an analysis of each of Stafford's 19 interceptions in 2013 displayed positive signs.
"I was a little encouraged after watching that this was not an interception machine," Lombardi said Friday at his introductory news conference.
Stafford has become known as a gunslinger who displays lazy footwork and relies on his otherworldly arm talent to make plays.
Lombardi conceded that there is room for growth in Stafford's game.
"Every quarterback could tighten up some of his footwork issues, and Matthew has got such a talented arm that I think there are times where he's making throws that you'd say, 'Well, maybe you shouldn't have thrown that because of the position of your feet' or what not," Lombardi said. "But look, I looked at every single one of his interceptions in depth, and not every single one was something Matthew did wrong. There are interceptions that happen because a receiver breaks his route off too early or (the ball) goes through the receivers' hands, gets tipped at the line of scrimmage.
"...By no means am I saying that he's the perfect quarterback, but like I said, he's smart, he works hard and he's talented."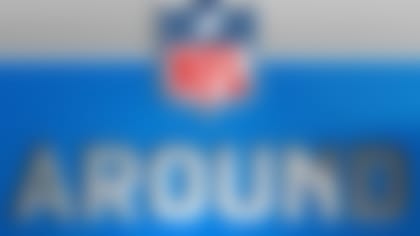 Caldwell and Lombardi both have extensive experience as quarterbacks coaches, and now they add a third man who has spent several seasons watching Peyton Manning work.
It is indeed the "Offseason of Stafford" in Detroit.
In the latest "Around The League Podcast," the guys ponder the future in both Seattle and Denver and break down the teams who intrigue them most this offseason.