Grading Manziel's media session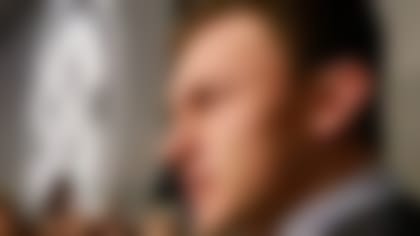 Heisman Trophy winner Johnny Manziel went through the SEC Media Days gauntlet. See how Johnny Football graded out in our report card. More ...
The Texas A&M quarterback told ESPN's "SportsCenter" on Wednesday that his departure was unrelated to anything that happened the night before he missed a morning meeting.
"I made a mistake and didn't wake up in time when I should have, and that's pretty much the end of that," Manziel said. "It was just simply my phone died. I overslept."
Manziel refused to answer a direct question about drinking alcohol during his time at the camp.
"I'm not going into details about what happened at the Manning camp," Manziel said. "We had social events every night."
He insists he was "absolutely not" hung over when he missed the meeting that led to his early exit.
Although the 20-year-old has been criticized for partying too heavily, Manziel gave no indication that this incident will change his behavior.
"I'm still a sophomore in college. I'm still going to do things that everybody in college does, and I'm going to continue to enjoy my life," Manziel explained. "Hopefully, people don't hold me to a higher standard than that."
As the coverage of Manziel the past few days proves, he'll unquestionably be held to a higher standard. It goes with the territory of emerging as the biggest name in the second-most popular sport in the country (college football).
Fair or not, the media scrutiny is nothing compared to the questions that scouts and executives will be asking after Manziel declares for the NFL draft. Teams understandably would feel a lot more comfortable committing millions of dollars and the image of the franchise to Manziel if he begins showing signs of maturity.