"It was a sidenote," Fox told Denver Post columnist Woody Paige.
This certainly wasn't the finest hour for the officials. The first quarter took an hour. Three calls were overturned in the first half. There was a six-minute pause for a fumble and ensuing ruckus. Players and coaches both complained that illegal contact downfield went unchecked.
Instant Debate: Dangerous move?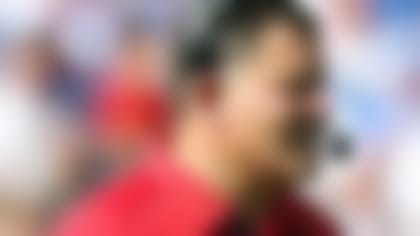 Did Buccaneers coach Greg Schiano go too far by having his team go hard on a Giants kneel-down? Our analysts debate. More ...
One player spoke to ESPN's Ashley Fox anonymously to avoid being fined.
"One of the things that's tough as a player, in all honesty, is just the amount of time every call takes," he said. "That's one of the things that is really frustrating. Hopefully, they'll get it fixed and get it back to normal."
I hoped things would go smooth enough that the whole replacement official conversation would die down. I'm not big on talking about the refs because calls usually balance out both ways. If they're bad, they're bad for both sides.
But the delays are getting annoying. Delays in making the call. Delays in explaining the call. Delays from arguing coaches. Even more replay delays. Not to mention missed holds and contact downfield, which seem to be two of the most common complaints.
Fox took the high road after the game because he was losing his mind during it.
Not sure what else can be done because there's no indication that complaints from coaches, players or the media have done anything to advance negotiations between the league and the officials union.