ENGLEWOOD, Colo. -- His appeal denied, Broncos linebacker Joe Mays will, in fact, miss a game for the hit that cost Texans quarterback Matt Schaub a piece of his ear.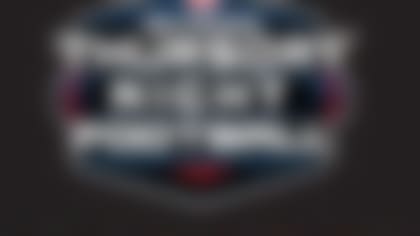 NFL Network isn't the only way to watch "Thursday Night Football." Follow the game online with this interactive companion.
And while the Denver coaches, already fined a combined $55,000 this season for their conduct, might not be in any position to complain, cornerback Champ Bailey certainly isn't holding back.
"A lot of it's bogus to me," Bailey said.
Mays had his appeal rejected by the NFL on Thursday, meaning the $50,000 fine and one-game suspension he received earlier this week stands. He'll miss Sunday's game against Oakland and won't be allowed back to Denver's facility until next Monday.
It's the latest bit of bad news the NFL has sent to the Broncos. Coach John Fox was fined $30,000 and defensive coordinator Jack Del Rio $25,000 for their sideline conduct with the substitute officials. Other than announcing Mays' suspension would stand, Fox said very little about the NFL decision. Del Rio did concede that "it was a great hit three years ago, but it's not acceptable now."
"It's been emphasized," Del Rio said. "It's one of those things. They're bang-bang plays in the NFL. Those things are going to happen. That's why they wear helmets."
Schaub's helmet flew off after the hit by Mays and the quarterback grabbed his head with both hands. He had blood dripping from his ear and missed one play. After the game, he said he lost a chunk of his ear but was otherwise OK.
Mays insisted he wasn't trying to go at Schaub's head and said he apologized more than once to the Texans quarterback for the hard hit.
Bailey called the Mays fine a prime example of the league overreacting to a hit to the head.
"They don't really look into what his intentions are," Bailey said. "Things kind of happen so fast and I think if that guy's helmet didn't come off and he didn't come out of the game, none of this would be happening. It's all about perception. When they think something's going a certain way, then they want to jump on it and act fast and make it seem like they're trying to protect us."
Copyright 2012 by The Associated Press