Members of the Baltimore Ravens walked a purple carpet on Monday night as part of the premiere screening of the DVD release documenting their run to the Super Bowl XLVII title.
Instant Debate: Harvin vs. Boldin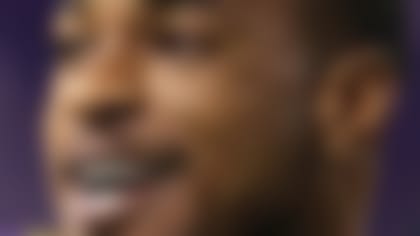 We imagine watching Boldin dominate in the playoffs was strange given the sudden circumstances of his departure. The wide receiver became a natural topic of discussion at the event.
"Anquan was a great receiver for myself and for our football team for this whole organization," said quarterback Joe Flacco, who a day earlier backed Boldin's decision to refuse a pay cut. "It's sad to see a guy like that go, but at the same time you want what's best for him and you just wish him the best of luck."
"You lose a lot of things, you lose a leader, you lose that fire," Flacco added. "Most importantly, you lose a really good player and a guy that's done it over and over again."
"It's tough for everyone," Smith said. "Not just myself, obviously there might be a little more responsibility but I had that last year and the year before that. It's definitely hard. The biggest thing is not so much about football, when you lose someone like that, a mentor, a big brother, a someone you love like a brother and would do anything for him. It's tough."
Parting ways with Boldin might have been a necessary evil for the Ravens, but it certainly leaves a void on the roster that goes beyond his on-field production.