Maybe that's not what matters to the 49ers coach. Moss has just nine catches on the season, few of them memorable, but Harbaugh maintains the veteran -- previously reported to be a headcase -- has been a rock on this team.
"I've seen nothing other than a guy who wants to work hard, contribute and say and do all the right things. He's been nothing but great," Harbaugh told Matt Barrows of The Sacramento Bee. "And if there was something in the past, it would be like that Etch-A-Sketch you had as a kid when you lift that paper up."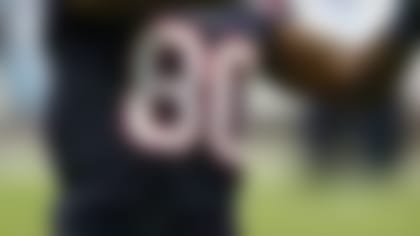 The Houston Texans check in at No. 1 in the NFL.com Power Poll for the third straight week. Where did our experts rank your favorite team? More...
Harbaugh continues to preach that Moss is primed for an explosion. We've seen nothing to suggest it. He's realistically the fourth or fifth option on this team -- and there's been more than enough opportunity to get him involved -- but Harbaugh is asking for patience.
"It's just a matter of time before we see the big-catch day that everybody seems to always pin their evaluations on," Harbaugh said. "He's been excellent."