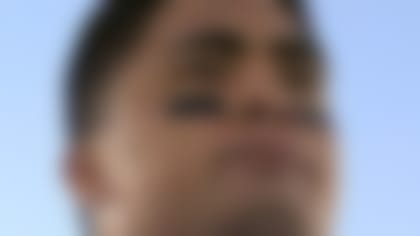 Check out the crazy roller coaster ride Manti Te'o, Matt Barkley and Geno Smith went on during their draft journey. More...

The Jets likely will bite the bullet and stay with Mark Sanchez for one more season, paying him $8.5 million rather than release him and take the enormous cap that would come with it.
General manager John Idzik continued his media blitz on Wednesday, telling Sirius XM Radio that Sanchez's salary is not tied to his future.
That can't possibly be true, and Idzik is better off avoiding making statements like this to media members and fans that know better. Sanchez already would be history had he not received that generous contract extension from Mike Tannenbaum last spring. That contract essentially wedded team and QB through 2013.
So Sanchez is in the awkward (albeit well-paid) position of being on a team that's moving on without him. There's plenty of logic to handing Smith the job as a rookie, but Idzik is keeping his options open.
"We don't feel like there's any pressure to put him in right away," Idzik said, "especially with the cast of quarterbacks we have."
The Jets' public stance that their quarterback room is suddenly a position of strength already is tiresome. "Strength in numbers" doesn't apply here.