Dallas Cowboys owner Jerry Jones didn't take sides in the postgame drama between the two coaches on Tuesday, diplomatically stating "that was between Tampa Bay and the Giants." Instead, Jones took a swipe at the very idea of the quarterback kneel.
Instant Debate: More troubling loss?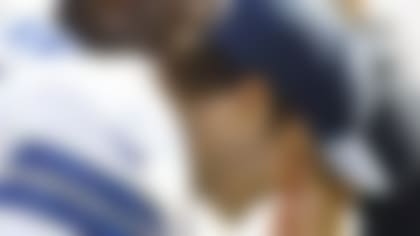 The Pats and Tony Romo's Cowboys were riding high after Week 1, but both teams stumbled Sunday. Which loss was worse? **More ...**
"I've always thought that that's a wasted play for our fans, the kneel-down," Jones said Tuesday on KRLD-FM, via Tim MacMahon of ESPN Dallas. "(Former Kansas City Chiefs owner) Lamar Hunt tried several times to introduce a rule and have it voted on that you couldn't kneel down.
"You had to run a play," added Jones, whose Cowboys play the Buccaneers on Sunday. "Unless you were trying to advance the ball, then you got a penalty and time didn't run off the clock. It's not a good play."
Many drunken arguments have erupted between college roomates over the use of the QB kneel in "Madden." In real life, I never viewed this as a topic that warranted discussion. And besides, if the kneel were to be eliminated, offensive coordinators would simply dream up equally boring playcalls designed to maximize ball security.
The victory formation is an earned right. Offensive linemen awkwardly pump their fists. Quarterbacks rise to their feet and cooly flip "The Duke" to a back judge. The difference between winning and losing is never more distilled than at that moment.