It's the Sunday after the Super Bowl. The NFL Media newsroom is quiet. It only makes sense we check back in with Jared Lorenzen.
The Hefty Lefty (or The Pillsbury Throwboy, or The Abominable Throwman or The Round Mound of Touchdown -- this is your call) burst back into the collective consciousness last week after footage from his season debut with the Continental Indoor Football League's Northern Kentucky River Monsters went viral.
Lorenzen -- listed at 6-foot-4 and 320 pounds -- told the Cincinnati Enquirer it took him three days to sort through the hundreds of text messages he received after his husky scrambling showed up everywhere. He seems to be OK with the spotlight, which is a bit of a relief.
"Social media is a scary, scary, crazy thing," Lorenzen said. "I honestly think it's because I was a big guy wearing a really tight, white jersey. If I am wearing blue or our opposite green, it ain't as funny. But you see the big guy running around avoiding people and it's funny. And I get it."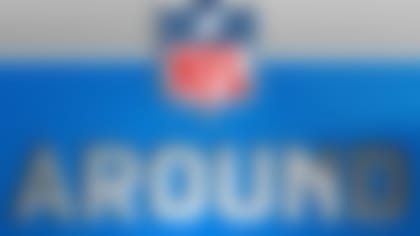 The Around The League team hits all the NFL's hottest topics in its award-winning podcast. Join the conversation. Listen
USA Today and ESPN.com are among the national media outlets that have requested credentials for the River Monsters' home opener Sunday.
"It's great to be the flash in the pan and all that, but if you don't have fun with this, what the hell are you doing in life?" he said. "Live this up, get your 15 minutes of it and bow away from it. I enjoy it, I love it, I think it's funny."
But is Jared Lorenzen elite? OK, I'll stop.
UPDATE: Oh no. Lorenzen was carried off the field by four teammates after suffering an unspecified leg injury Sunday. Someone on the scene snapped a pic of Lorenzen on a stretcher. Get well soon, big man.