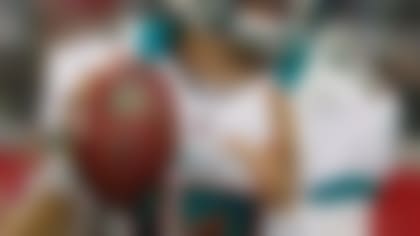 With the offseason under way, Around The League examines what's next for all 32 teams. Henry Hodgson tackles the 'Fins. More ...
You might think the 27-year-old Long is a franchise cornerstone. That he's physically gifted, proven and in possession of several more prime years. Either that, or you believe Long's best days are over. We've watched five long years in the trenches take its toll, turning a great tackle into a good one.
In a phone interview with NFL Network's Lindsay Rhodes on Tuesday, Long was asked if he'd like to remain with the Dolphins, who drafted him with the first overall pick in the 2008 draft.
"We're going to have to see," Long said in an interview that aired Tuesday on "NFL Total Access." "The last five years I've really enjoyed being a part of the Dolphins. They have such a great tradition of football there. The community and fans have really embraced me and I've loved playing there.
"I'd be open to continue my career there, but it's essentially on them, see what they want to do and what direction they want to head in and go from there. That's the business side of it, so we'll see what they want to do."
Long has spent the early part of his offseason in Pensacola, Fla., where he's been rehabbing his surgically-repaired triceps. Is he concerned the timing of his recent injuries will negatively impact his value on the open market?
"I'm not concerned," Long said. "The last couple of years, I've had some injuries I've had to work through, it hasn't been the ideal situation, but I've been working hard this offseason to get healthy and get strong.
"And this is the best my body has felt in a long time, and I'm just excited to get a deal done and focus on football and get back to work for 2013."
Long believes his best years are ahead of him. Given his age, pedigree and position, we're inclined to think there will be a team that agrees. It just might not be the Dolphins.