Debate: QB controversy... to playoffs?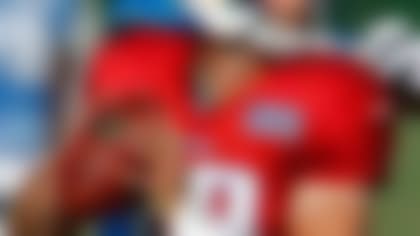 Four teams have notable QB battles taking place right now. Which one has the best shot at the playoffs? Let's debate! **More ...**
NFL coaches like to have a firm idea of their Week 1 starting lineup by the third preseason game, and Locker's nod for Friday's contest puts him in position to leapfrog Matt Hasselbeck.
Munchak acknowledged Locker had closed the gap on Hasselbeck after a positive showing in the Titans' preseason opener against the Seattle Seahawks. In that game, Locker led the Titans on a 79-yard touchdown drive before halftime.
Hasselbeck started and threw two interceptions. Later, he said the Titans were "surprised and impressed" how quickly the mental game has come to Locker.
Hasselbeck remains ahead of Locker on the depth chart, but it's Locker who holds destiny in his own hands. This QB battle is about to reach its tipping point.
UPDATE: Munchak said Locker will be given about 20 to 25 plays Friday and that both quarterbacks will see more playing time than they did in the preseason opener, according to The Associated Press. Locker only played one series with the first-team offense in the last game.
"We kind of want to see him with some of the other players for a longer period of time," Munchak said, via The AP.