In Texas, high school football is a way of life. The letterman jacket issued to each varsity player is proof via outerwear that you're somebody.
And in that spirit of "Texas Forever," members of the Houston Texans were seen in the locker room Friday wearing brand new letterman jackets.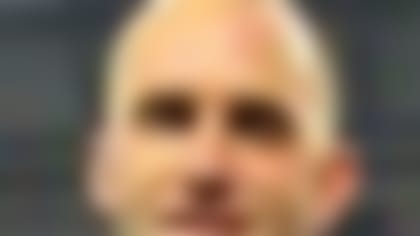 The idea was the brainchild of nose tackle Shaun Cody. Teammate Connor Barwin worked with the team's equipment director to make the initial order. The jackets arrived Friday.
"I used to say before the season it feels like we're on a college team," Barwin said Friday, via the Houston Chronicle. "Everybody gets along, we have so much fun. And this jacket, you feel like you're on a high school team where it's all about winning, it's all about being around a group of guys.
"This jacket is just another symbol of that. There's no names on it. You just have your number, your position group and the Texans logo."
Barwin said the Texans will wear the jackets on the team plane en route to their huge conference showdown with the New England Patriots on Monday night. Barwin is asking teammates to wear the high-school-invoking combo of khaki pants, white shirts and blue ties as well. Dreamer that he is, Barwin also wants to add patches to the jacket to commemorate various team accomplishments.