"I'm not going to make it happen," Schiano said Saturday. "If I feel it should go one way and the staff feels that way, I'll do it. Otherwise they're two good backs, and a lot of teams do that now, in this day and age."
ATL: Blount feeling optimistic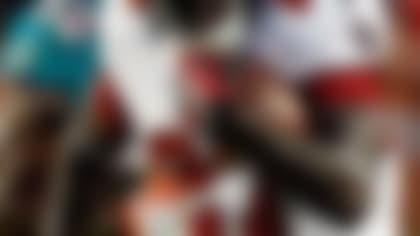 LeGarrette Blount has high hopes for 2012, figuring his Buccaneers could have the NFL's best backfield. Bryan McIntyre examines that claim. **More ...**
Developing a running game is a top priority for the new head coach of a Buccaneers squad that ran the ball fewer than 22 times per game last season, the least of any NFL team.
The Buccaneers ran 25 times during the first half of their 20-7 win over the Miami Dolphins on Friday night in the preseason opener for both teams, with Blount and Martin each getting seven carries and scoring one touchdown.
"It was good. Everything that we've practiced is coming to life," said Blount, Tampa Bay's leading rusher in each of the last two seasons. "We scored on our first two drives, and that's what you always plan to do."
The Buccaneers traded into the first round this year to draft Martin, a quick and compact running back out of Boise State. That sent a message to Blount, who came to training camp with his job on the line after losing five fumbles last season and experiencing a big dropoff from his 1,007-yard performance of 2010.
Establishing the ground game is a higher priority for Schiano than deciding who will carry the football.
"No matter what the decision is, they've both shown already that they're going to help us, that they're both going to run the ball," Schiano said. "I think it's going to be a fluid situation until someone kind of distinguishes himself as deserving more touches. But I can't tell you how it's going to go right now. I don't know."
Copyright 2012 by The Associated Press