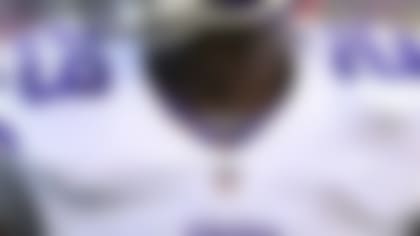 Veteran receiver Greg Jennings, after meeting with new offensive coordinator Norv Turner and seeing the prominent role Patterson would play, sat down with the second-year receiver to make sure he knew the score.
"I wanted him to know that, coming in, the expectation of you is no longer 'rookie.' It's, 'You gotta go. We saw what you can do. We're gonna showcase this,'" Jennings told ESPN.com last week. "For me, it was making sure that he understands that he has to be a professional. He has to be a pro's pro when he steps foot in this building, because we're expecting (him) to give us what we've seen you put out there."
Like many rookies, Patterson struggled out of the gate understanding routes, timing with his quarterbacks and how defenses played him. However, as the season wore on, Patterson settled in and displayed his exciting, explosive potential.
The 6-foot-2, 23-year-old Patterson caught 24 of his 45 receptions in the Vikings' final six games in 2013, added three rushing touchdowns in that timeframe and, more importantly, started running routes like an NFL receiver.
"As a rookie, not being given a whole lot of opportunities and then coming on strong at the end of the year, the expectation of Eight-Four went to another level. I'm going to be honest: Once I saw him make a couple plays, I'm like, 'We've got to get him the ball. He does too much well for us not to get him the ball.'"
If Patterson makes the leap opposite Jennings this season, the Vikings' offense won't need to ask the quarterback -- especially if it's rookie Teddy Bridgewater -- to be more than a game manager in 2014.