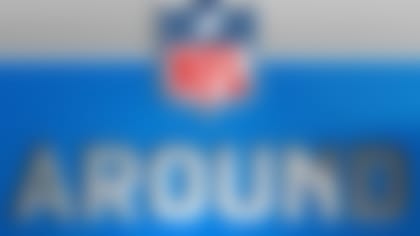 The Around The League team hits all the NFL's hottest topics in its award-winning podcast. Join the conversation. Listen
During a Tuesday call-in appearance on the "Around The League Podcast," Hardy explained how San Francisco disrupted The Kraken and his cohorts.
"There wasn't much different (from what we'd seen), just effective," he said. "They came with a lot of fast throws, bang 8s, slants. They tried to open with the run game, we stopped it pretty good early, but they opened up in the second half and went back to it and it started to break us down."
"You got to look out for (Wilson) because he can complete passes on any level," Hardy said. "Scrambling, two feet in a sack, falling down, underhand, all types of ways. And he's not afraid to hold the ball and just get down there and make the plays wherever and whenever.
"But Kaepernick, he's more of a team quarterback. He works well with his O-linemen -- the scheme is perfect for him. When he feels like going, he goes but he's definitely looking to make more plays according to scheme and not just running the Seattle-type offense."
Hardy is scheduled to become a free agent in March and said it would be a "big honor" if the cap-strapped Panthers use their franchise tag on him (as has been speculated). I asked what would happen if he plays under the tag, then hits on his 2013 goal of a 50-sack season. What kind of contract would he command?
This would be classified as a "happy problem" for general manager Dave Gettleman.