David Wilson entered the league this season as one of the more intriguing running back prospects around. Ten games in, the New York Giants rookie has some work to do.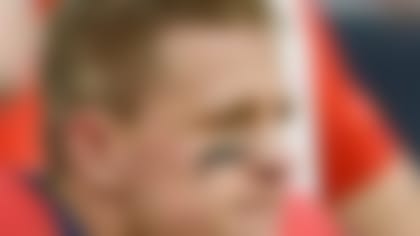 "David has to learn you can't be just a runner, that's not what we do, you have to be a complete running back, you have to be knowledgeable, you have to be smart, you can't just accept your mistakes," Giants running backs coach Jerald Ingram told the New York Post.
"It's about winning games, it's not a popularity contest. It's time for you to grow up and be a man now and see what you can do with the whole ball of wax. Until he proves that it's hard to stick him out there and feel comfortable."
While fellow rookies Doug Martin and Trent Richardson were handed the keys to the car, Wilson has just three touches in the past four games. He was tossed into coach Tom Coughlin's doghouse early for fumbling issues. The team is concerned about his ability to block and pass protect for citywide treasure, Eli Manning. Finally -- and we're not piling on here, promise -- he's also had trouble catching the ball.
All of it explains why Wilson has just 89 yards off 18 carries in Year One.
Wilson wasn't asked to be a complete back at Virginia Tech. Ingram pointed to Brandon Jacobs, Derrick Ward and Ahmad Bradshaw as players who also sat and watched until they learned team concepts.
We know this: Big Blue is patient, even if Wilson is not. His role will increase, and we do like his overall prospects for developing into a weapon in New York.