We might remember Wednesday as the day the New York Jets' quarterback competition came to an unceremonious conclusion.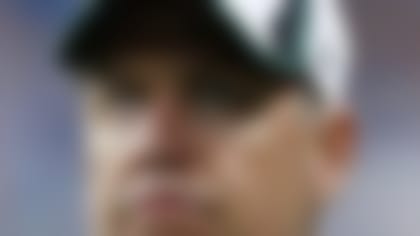 Whoever Rex Ryan and the New York Jets choose to play quarterback, the team's problems run deep, Judy Battista says. **More ...**
Geno Smith suffered through his worst practice yet, throwing four interceptions in 11-on-11 and 7-on-7 drills. After practice, Jets coach Rex Ryan acknowledged it was a "possibility" that Smith's ankle might force the rookie to sit out the team's second preseason game Saturday.
"It was brutal. It was Geno's worst day. I think, and obviously, the ankle's part of it, but ... way too many picks and things. Did not look comfortable today," Ryan said, via the New York Daily News. "Obviously he has to come back from it, he will come back from it. It was a bad day. Everybody, we've seen it, guys have bad days. But this was a really bad day for Geno."
Ryan's candor seems to hint that the coach is ready to move forward -- for the time being anyway -- with Mark Sanchez as his starter. Smith's health plays a major part in that.
"I don't think he's at 100 percent. I don't believe he's close to 100 percent right now, but again, that doesn't mean we have a few more days, that it can't get a lot better," Ryan said. "We've seen these type of injuries get better in a hurry, so we'll see how it goes."
This all smacks of bad decision-making by the Jets, who rushed Smith back on the practice field after he suffered a sprained ankle in the preseason opener. Their haste tells you how much they want Smith to be the starter, but some situations can't -- and shouldn't -- be forced.