Geno Smith continued to fight any labels that might be placed on the former West Virginia quarterback. He recently was criticized by ProFootballWeekly as having a poor work ethic and not being a student of the game. His success was attributed to the West Virginia system.
On the Beat: 2013 NFL Mock Draft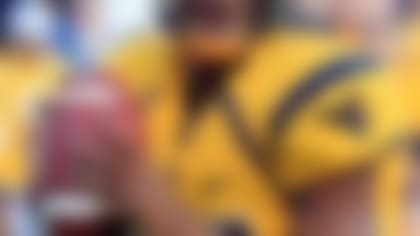 Check out the surprise picks NFL experts from around the league are choosing in this year's On the Beat Mock Draft. **More ...**
"I consider myself a quarterback who's got the ability to win games above the neck," Smith told Jon Gruden on ESPN's "Gruden's QB Camp". "My athletic abilities, that just comes with the package. I can run the ball. I can run and scramble and pick up first downs.
"I extend plays more than I just go out there and just run around like a chicken with my head cut off."
Smith surely went into the taped segment wanting to dissuade his critics' opinions. Gruden asked him to detail the preparation for variety of defenses on a weekly basis.
"We map out every single scenario," Smith said. "You may have a team who's played a lot of four-down and they come in this week and they're playing three-down. You may have a team who typically plays quarter-coverage, open-coverages, and (if) you've got a guy in the slot who can be a slot, they're going to play closed coverages.
"You've got to be prepared for anything. You've got to know what you're seeing. You've got to know defenses and you've also got to know your offenses like the back of your hand to be able to put your guys in a good situation."
The show only aired a couple of scenarios in which Gruden asked Smith to make note of a call and come back to it later. That wasn't too telling. But Smith did show a strong knowledge of the variety of options within the West Virginia offense.
Not sure the 30-minute show changed any opinions, but he handled himself well in the portion that aired.