One of new coach Doug Marrone's many challenges in Buffalo is finding a way to the make the most of Fred Jackson and C.J. Spiller in the Bills' backfield.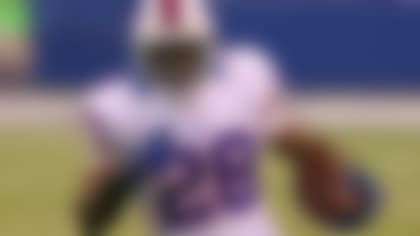 Fans of the team were driven to the edge watching Chan Gailey yank Spiller on key drives and mix and match Jackson into action just when the offense seemed to develop some rhythm. These are both talented runners, but is there too much of a good thing in upstate New York?
Jackson says the committee approach is fine by him.
"If that's what it is, us sharing reps, we have no problems with that," Jackson told WGR-AM on Friday night, via the team's official site. "I don't have a problem with that. I'm looking forward going out there and making the best of my opportunities whenever I get on the field, I'm sure C.J.'s the same way. Whatever we can do to get a win, we're going to do, that's what we're about."
Jackson's seen two straight seasons washed away by injury, but he still accounted for 115 carries in 10 games last season to Spiller's 207 over 16 appearances. The difference lies in what they did with those opportunities.
Who will the Chiefs take with the first overall pick? Where will Manti Te'o end up? Daniel Jeremiah projects the first round. **More ...**
Jackson's 437 yards netted a 3.8 per carry average. Spiller ran for 1,244 yards -- a whopping six yards per attempt. He also accounted for 459 yards in the passing game, twice as many as Jackson. The Bills were arguably more focused as an offense when Spiller was the lone back.
During Marrone's last NFL stint in New Orleans from 2006 to 2008, he directed a Saints' offense that finished tops in yardage twice. He also found a way to effectively use Reggie Bush, and we expect he'll design a balanced load of plays for both Jackson and Spiller in an attempt to attack defenses with as many weapons as possible.