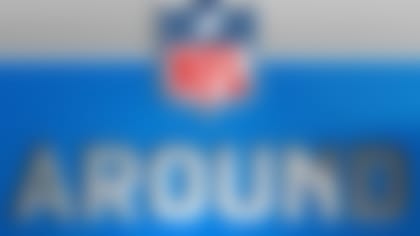 The Around The League team hits all the NFL's hottest topics in its award-winning podcast. Join the conversation. Listen
Falcons general manager Thomas Dimitroff told NFL Media's Kimberly Jones on Monday he was flattered by Clowney's interest and that his team would consider every option in the draft.
"Look, like I've said, I've been very clear about this, we will always be open for business," Dimitroff said, per The Atlanta Journal-Constitution. "We will always be open to move up and back, depends on what's right for us. Again, I feel really comfortable with where we are at six, but there are opportunities on both sides of six."
During his podium session at the NFL Scouting Combine, Dimitroff singled out the offensive and defensive lines as the Falcons' key offseason targets.
The general manager said the team will take every avenue to fill the pressing needs of protecting Matt Ryan and pressuring the opposing quarterback.
"We are real excited about what's in the draft, offensively and defensively," Dimitroff said. "We also think there will be some legitimate opportunities in free agency. That's what it's about, taking every thing into consideration. We know where we need to go. We know what we need to tweak and adjust."
If Clowney isn't taken by the Houston Texans at No. 1 overall, the possibility exists that the St. Louis Rams might look for a trading partner at No. 2.