The job of Jimmy Graham's representation this offseason will be to argue that the New Orleans Saints' tight end should be paid more in line with a wide receiver's compensation. They got no help Wednesday.
All-Pro quarterback Drew Brees defined the dynamic pass catcher as a tight end when he spoke to NBC Sports Radio on Wednesday.
"He's a tight end," Brees said, via ProFootballTalk. "He's a tight end. We're able to do a lot of creative things with him, just like we're able to do with a lot of our offensive personnel. I feel like with Sean Payton, with our offensive system and we gear towards putting those guys in the best position to succeed according to their strengths. Jimmy Graham (6-foot-7, 270 pounds), he runs like a deer, he can jump and catch, he's so strong and physical, he plays with great fire and passion, he can play the line, he can split out."
To be fair, Brees was likely not considering compensation when he gave his response, but rather trying to point out how important Graham is to the Saints' offense.
The tight end allows the Saints to use multiple formations. However, he is not a traditional tight end. According to Pro Football Focus, Graham run-blocked on just 33 percent of his snaps -- a number that declined throughout the season as he dealt with a foot injury.
The franchise tag for a tight end is $6 million, while the tag for a receiver sits at $10.6 million. The Saints are currently about $13.6 million over the salary cap, according to Brian McIntyre.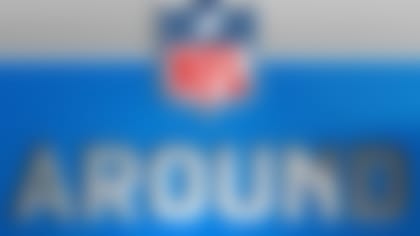 The Around The League team hits all the NFL's hottest topics in its award-winning podcast. Join the conversation. Listen
General manager Mickey Loomis has already said he will use the tag if the Saints can't come to an agreement with the tight end. Graham told Around The League last week that would be "unfortunate" -- likely because he knows he'd be tagged at the $6 million number, far lower than his worth.
Brees said earlier this season that he might be open to restructuring his contract -- assuming years would be added. He might need to if he wants to make sure his "tight end" is happy and paid appropriately.