With the 2013 NFL Draft less than two weeks away, NFL teams are finalizing their boards and coming to consensus about who they covet at the top of the order.
2013 NFL Draft: Team needs Our analysts examine each team's game plan entering the NFL draft, identifying biggest needs, potential fits and more. More ...
There's no end to the misinformation, subterfuge and smokescreens, but let's wander through the league and examine some of the data out there on this lovely Saturday.
» NFL Network draft analyst Mike Mayock called Alabama guard Chance Warmack the "best player I've seen on tape." Mayock's not alone in that assessment, but Warmack has competition. League sources told Draftinsider's Tony Pauline they believe there's a "50-50 split" of teams who prefer North Carolina's Jonathan Cooper. One of Pauline's sources stressed that Cooper's skills are better suited for the NFL, while his versatility will allow him to succeed in multiple blocking schemes.
» If Warmack slips in the first round, the New York Giants would love to grab him at No. 19. Big Blue sees the guard as a "great fit" for New York's system, one source told Pauline. As for Warmack, he told ESPN.com on Friday he's intrigued by the possibility of playing for the Tennesseee Titans. Why? Two reasons: coach Mike Munchak and assistant Bruce Matthews, a pair of Hall of Fame offensive linemen. "With those two, it would be a whole 'nother level of learning the position," Warmack said. "I was more attracted to hearing those two guys being on the same team and to know that it was three hours away from my college. It would be like a dream come true for me."
» One last nugget from Pauline: He was told scouts gave Alabama running back Eddie Lacy a "fair to middling" grade for his Thursday pro day. In general, it was considered an uninspiring performance, but Lacy is coming off a partial hamstring tear. NFL.com's Bucky Brooks reported Thursday that Lacy's "lack of stamina is definitely a concern."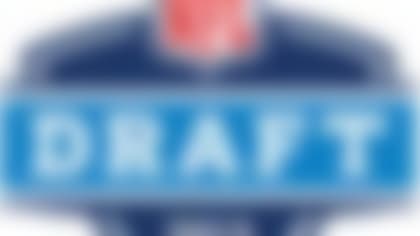 With the draft right around the corner, NFL.com ranks the top prospects available at every position on offense and defense. More ...
» The Atlanta Journal-Constitution's D. Orlando Ledbetter believes the Atlanta Falcons are considering a draft-day trade that would allow them to move up and grab a blue-chip cornerback. Washington's Desmond Trufant has visited with the Falcons, but he likely won't be around when they pick at No. 30. The newspaper reported Saturday that the Falcons studied plenty of Mississippi State film before drafting safety Charles Mitchell last year. That provided exposure to cornerback Johnthan Banks, who might be available at the bottom of the first round. If Banks isn't the target, history tells us Falcons general manager Thomas Dimitroff isn't afraid to swing a deal to get what he desires.