Donovan McNabb understands all too well the turmoil that comes with being the Philadelphia Eagles' quarterback.
The former Pro Bowl quarterback, who was booed by Eagles fans when drafted No. 2 overall in 1999, spent 11 seasons as coach Andy Reid's signal-caller and appreciates the pressure Michael Vick is under now.
Kriegel: Another Philly fiasco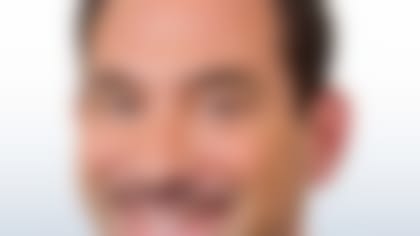 "You have to focus on your job, and if you focus on your job, you block everything out," McNabb said as a guest analyst on Tuesday's "NFL AM."
"I think you get in a situation where once you start hearing the boos and hearing the radio stations talk and people on the outside begin to bring your name up of being benched, then you begin to lose focus, and now your play begins to fall and you begin to focus on other things. ... I think it's important for him (Vick) to feed off of what he did last week, not turning the ball over, protect the football, give his guys an opportunity to make plays for him and good things can happen."
NFL.com and NFL Network's Ian Rapoport reported Monday that Reid isn't ready to commit to a quarterback switch to backup Nick Foles because he doesn't view Vick as the team's lone problem, according to two sources inside the organization. Both sources said they wouldn't be surprised if Vick eventually is benched.
Schein: Playing Mr. Fix-It McNabb, who threw for 32,873 yards in an Eagles uniform, said the team needs to get back to the three-step, five-step system that made Reid's offense successful when McNabb was at the helm. He also said there are other culprits in Philadelphia, such as the disappointing defense, and that Vick is just taking the brunt of criticism as the team's quarterback.
"What if the offense goes out and scores 24 points, but the defense gives up 42 points?" McNabb asked of the Eagles' upcoming Monday night showdown with the sputtering New Orleans Saints. "Now do we go back to the benching and talk about Foles again or is this another situation where we begin to start mentioning some of the defensive players that need to be benched? Maybe the offensive line needs to be benched. There's other people that need to be in this situation besides Michael Vick."