Miami Dolphins wide receiver Chad Johnson was arrested on a misdemeanor domestic violence charge Saturday night, Davie (Fla.) Police Cpt. Dale Engle told NFL.com and NFL Network.
Police said Johnson head-butted his newlywed wife, "Basketball Wives" star Evelyn Lozada, in the forehead during an argument that started while they were driving home from dinner around 8:30 p.m. ET. Lozada was treated at the scene for a "pretty good-sized" laceration, Engle said, and she later was taken to the hospital.
Johnson told police that he and his wife accidentally knocked heads, according to Engle, who said the "heated argument" started over a receipt for condoms found in the car. Engle originally told NFL.com and NFL Network that Johnson had found the receipt, but he later clarified it indeed was Lozada who found it and then confronted her husband.
The Johnsons live in Davie, where the Dolphins' practice facility is located, and a neighbor called police about the incident, Engle said. Johnson was charged with simple battery/domestic violence.
"We are aware of the situation and are in the process of gathering all of the relevant information," a Dolphins spokesman said in a statement given to NFL.com and NFL Network's Jeff Darlington.
Johnson's agent, Drew Rosenhaus, had no comment about his client's arrest when reached by NFL.com and NFL Network's Ian Rapoport.
Johnson remains in custody at Broward County Jail and won't be eligible for release until a bail hearing is set, which could be as late as Monday, Engle said. The Dolphins have a practice scheduled for Sunday afternoon.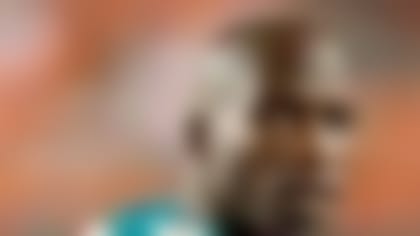 Chad Johnson entertained many, but if the domestic violence charge against him is true, few will be able to forgive him, Marc Sessler writes. **More ...**
Johnson and Lozada were married on the Fourth of July. He changed his last name from Ochocinco, a playful reference to his No. 85 jersey, back to Johnson so his wife would take it as her last name.
UPDATE:Johnson's bond was set for $2,500 on Sunday, his lawyer told the Sun Sentinel. The newspaper reports Johnson should be released Sunday morning.