Instant Debate: The pressure is on ...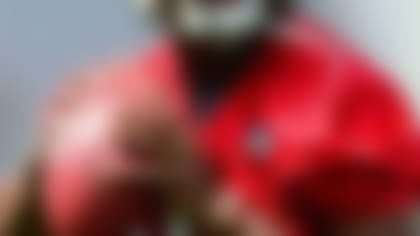 Sanders, the receiver out of South Carolina, might be used as a poor man's Tavon Austin, according to King, while the team is exploring a Kordell Stewart-esque "slash" role for Robinson, the former Michigan quarterback. Reports out of organized team activities have hinted at Robinson -- listed as a running back on the depth chart -- seeing 10 to 15 snaps per game out of the backfield.
This only works if Blaine Gabbert is kept on two feet and develops into a passable signal-caller. The drafting of offensive tackle Luke Joeckel looms as the biggest potential difference-maker. Before the draft, the Jaguars went deep into the analytical forest to discover that Gabbert markedly was more productive when he's well protected.
Jaguars owner Shad Khan's son, Tony, runs the team's analytics department and "had the passer rating broken down from where the quarterback had 2.6 seconds to throw to 2.5," general manager David Caldwell told NFL.com's Albert Breer during the draft.
Breer: It's a new day in Jacksonville
The study revealed that Gabbert was in the top three of NFL quarterbacks when given at least 2.6 seconds to throw. Assuming Joeckel can protect his quarterback for just a smidgen longer -- and if all these new wrinkles pan out -- we could be in for something special down in Jacksonville, right?