Cam Newton is under the microscope in Carolina, but the Panthers youngster remains one of the game's elite athletes. He can do things other quarterbacks cannot.
Case in point: Newton has been nearly automatic leaping up and over defensive lines from the 1-yard line. He's 3-for-4 on these plays on the season, but we saw Carolina move away from this option in Sunday's ugly loss to the Seattle Seahawks.
Jonathan Jones of The Charlotte Observer witnessed the same thing, and asked coach Ron Rivera about a fourth-and-goal at the end of the game that asked Newton to roll to his right with the option to run or pass. In a game dominated by Seattle's athletic defensive line, the Panthers chose to pull Ace Boogie away from 10 men in the box.
"We talk about what our options are in certain situations and circumstances, and we really felt that giving him the run-pass option was really good," Rivera said. "We felt that putting three guys into the route was very good. And unfortunately we didn't complete the pass."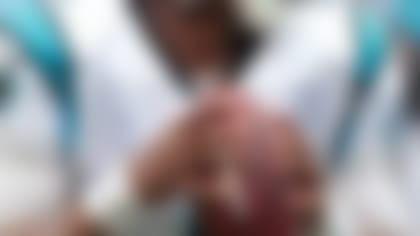 On the play, Newton unfurled a duck to Ben Hartsock that hit the ground instead of the tight end's hands. It was arguably Cam's ugliest play as an NFL quarterback, but offensive coordinator Rob Chudzinski believes it was the right call.
"I, in that particular situation at that point, did feel good about giving Cam multiple options there," Chudzinski said, "running and then having a couple of guys that he could throw the ball to, to get out on the edge. And they actually misaligned on it which made it tough for us."
Seattle's excellent secondary had tight end Greg Olsen covered on the play, which doomed Newton from the start. He's done so well with the leap, why toy with it? Easy to second-guess, but Rivera insists that sending his quarterback over the top was asking for trouble against Seattle's hulking defensive tackles, pitted against Carolina's hobbled center, Ryan Kalil. Now his team is 1-4.
What would you have done with Cam? Tell us below.