"That's what (ticks) me off more than anything is you guys are going to write about how bad we are up front and that we can't get in the end zone. But there's more to it than just blocking up front, and that's all I'm going to say about that," McClure told the Atlanta Journal-Constitution.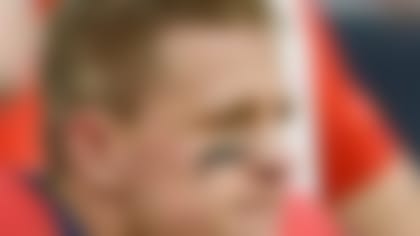 "I get really frustrated when I hear things and read things knowing there's more to it than five guys up front but we take the brunt of the blame. I don't want to talk about that anymore because I don't want to say anything I regret."
McClure could have been talking about his coaching staff, but it's more likely he was talking about Michael Turner. The veteran running back couldn't pick up a yard in crucial situations last year, and the same is true in 2012. But Falcons offensive coordinator Dirk Koetter says it's not Turner's fault.
"We need to run the ball more efficiently as a team," Koetter said. "It doesn't matter who the runner is. When you look at the tape on the majority of Mike Turner's runs in the game the other day, he had no chance. We had free runners at the point of attack."
Turner and Jacquizz Rodgers have struggled to consistently gain yards on the ground this season, but Rodgers is a far bigger threat as a receiver. We'd expect Rodgers to get more work in the second half of the season. Teams like the Green Bay Packers and New England Patriots have survived without great running games in the past, but they have MVP-caliber quarterbacks.