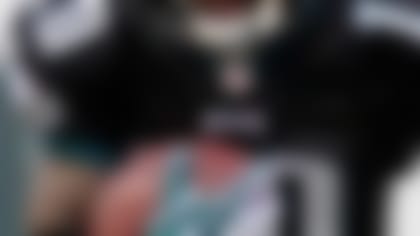 Stay up-to-date with all the latest news and rumors behind DeSean Jackson's potential destinations with our DJax tracker. **More...**
A source involved in the process has told NFL Media's Albert Breer the team has a standing invitation for Jackson to visit San Francisco. Our understanding, however, is that the 49ers remain very much a long shot.
The primary roadblocks remain asking price and salary cap.
Battista: The DeSean fallout Jackson's tenure in Philly raises plenty of questions. Judy Battista delves into a mystery move. **READ**
The bottom line is 49ers fans shouldn't get their hopes up for Jackson's return to the Bay Area. For a wideout likely to surpassEric Decker's five-year, $36.25 million contract, a "prove-it" contract with San Francisco is closer to a pipe dream than reality.
In the latest edition of the "Around The League Podcast" the guys do the news, open the mailbag and play "Win Wess' Toaster."