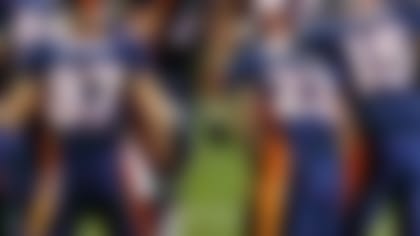 Perhaps coach John Fox, a long-time proponent of the ball control offense, believes his team would have hoisted the Lombardi Trophy if either McGahee or Moreno was available for clock-killing mode. With McGahee in street clothes and Moreno sidelined, the Broncos had little success moving the chains behind scatback Ronnie Hillman against the Ravens.
While the declining McGahee and star-crossed Moreno can no longer be counted on for 16 games, the upshot here is that the coaching staff still has concerns over Hillman's size, ball security, and pass protection. His future is as the Mr. Outside complement to a bigger back's Mr. Inside role.
If the Broncos turn to the draft, Alabama's Eddie Lacy is the premier big-back available. He may not be available at pick No. 28, however. Other options include South Carolina's Marcus Lattimore, Stanford's Stepfan Taylor, Michigan State's Le'Veon Bell, and Arkansas' Knile Davis. The top veteran free agents are Shonn Greene and Steven Jackson, whose future in St. Louis remains uncertain.