DENVER -- A federal appeals court on Monday has ruled against Denver Broncos linebacker D.J. Williams, who had appealed the dismissal of his lawsuit seeking to overturn a six-game drug suspension by the NFL.
The ruling by a three-judge panel of the 10th U.S. Circuit Court of Appeals affirmed District Judge Christine Arguello's dismissal of the lawsuit for substantially the same reasons she cited.
Instant Debate: Game of the Year?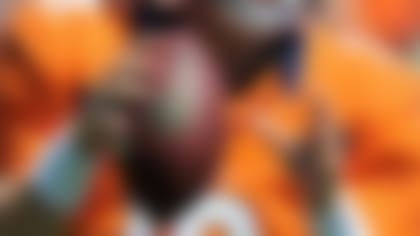 What is the most highly anticipated game of 2012? Our analysts mention multiple contests featuring Peyton 
Manning. **More ...**
Arguello in June essentially backed an arbitrator who had upheld the suspension and rejected arguments that the arbitrator exceeded his power, engaged in misconduct, disregarded the law, or was biased.
The appeals court ruling repeated Arguello's reasoning that the court's role in such arbitration cases is simply to determine whether the arbitrator abandoned the collective bargaining agreement between the league and players union in making a decision.
The NFL had said urine samples Williams provided last year weren't from a human. The specimen collector said he had watched Williams provide the samples, though at times he watched from the side rather than with a full frontal view, according to court documents. The collector was later fired.
The arbitrator said it appeared Williams was involved with substituting a specimen and that circumstantial evidence suggested it was submitted either with knowledge of the specimen collector or because of failure to follow protocol.
Williams had argued the NFL violated its own protocol leading up to Williams' suspension.
"We are obviously disappointed," Williams' attorney Peter Ginsberg said in an email. "By its own admission, the NFL failed to follow the procedures mandated to assure the validity of the samples. The NFL-designated arbitrator ignored those violations and the NFL and its arbitrator have now escaped judicial scrutiny. And D.J. Williams is the victim."
He didn't respond to a question asking whether Williams would appeal.
Copyright 2012 by The Associated Press