CANTON, Ohio -- Dave Robinson dropped more one-liners. Cris Carter cried. Warren Sapp chipped in a belly laugh or three.
Those three men -- along with Larry Allen, Curley Culp, Jonathan Ogden and Bill Parcells -- joined NFL Network's Steve Mariucci on Sunday at the Enshrinees Gameday Roundtable, where it was evident they still were soaking in their previous night's enshrinement into the Pro Football Hall of Fame.
Tune in to "The Rich Eisen Podcast" on Tuesday if you want to hear the entire 37-minute banter session, but until then, here are some revealing, humorous highlights:
The verdict's in: Allen is worthy of Canton
Carter, in perhaps the afternoon's most surprising comment, said that while the seven men were on stage Saturday night to be enshrined, Allen questioned whether or not he belonged in the Hall. Carter quickly came to Allen's support.
"We were standing out there, (and) Larry Allen kept saying, 'I'm not supposed to be here. I don't know why I'm here,' " Carter told the Canton Memorial Civic Center crowd. "And I looked at him, and I told him, 'I want you to watch this video, and like the police say, we got you -- we got video evidence.' I said, 'We got video evidence.' I said, 'When they finish that tape of you, I want you to look back at me and tell me you don't belong in the Hall of Fame.' And to see him be able to get over that hump and get going, that was really the moment."
Sapp also threw his support behind Allen, telling the seven-time All-Pro offensive lineman: "I didn't sleep good at night the weeks I had to come see you."
Allen simply explained that he didn't expect such an honor and just played football so he could have a better life. That desire landed him a well-deserved place in Canton.
Carter backs the selection committee
It took Carter six tries to reach the Hall, but he doesn't hold any animosity toward the selection committee. In fact, he empathizes with the job they must do every year.
"I think they have the right people (on the committee)," Carter said. "I really do. It's an unbelievably tough process. And there ain't no bums in the Hall. I mean, they're putting in great players every year. The selection committee they have, I believe, is the right selection of people."
Carter did joke that if his Hall of Fame bust could talk, its first conversation would be with the selection committee -- "C'mon, man!" it would say -- and he loudly backed fellow wide receivers Tim Brown and Andre Reed for enshrinement.
"We'll come to a time and day when those people will sit in a room, and they will look at the work of the wide receivers and realize that we work just like the other 10 guys on that football team," Carter declared.
Carter is known for wearing his emotion on his sleeve. That was most evident when he discussed son Duron, who presented him for enshrinement, and his mother.
Carter told the crowd that being a good father drove him to quit drugs in 1990, after the Philadelphia Eagles released him.
"When Buddy Ryan cut me, my wife was pregnant," Carter said. "And I told her that I would quit using cocaine and that I would stop drinking for (Duron), so that he would have a chance. That's my dude, and I'm going to be with him, no matter what people say, no matter how many mistakes he ever makes."
Carter also choked up while remembering his Saturday night speech, when he told his mother she also was in the Hall. Mariucci then asked Carter's mother to stand up, and Carter again yelled, "Momma, you in the Hall of Fame," much to the crowd's delight.
Hall of Fame week's breakout star
Robinson, whose wisecracks stole the show Saturday night, continued his witty ways. He had help from Mariucci, who outed the Green Bay Packers great for forgetting two pages to his enshrinement speech. Robinson summarily confessed.
"I turned to page 5 -- there was no page 5," Robinson said. "I said, 'Don't worry, Dave, you put it behind page 6' -- it was page 7! I didn't know what to do. ...
"I want to tell you something: I panicked. I started stuttering and stammering, trying to get it together, 'Try to get it together.' I wouldn't have made it, except I looked over at Warren Sapp sweating, and I said, 'I'm OK.' "
Robinson, who played at Penn State, also couldn't resist a dig at Carter after the receiver's "video evidence" comment to Allen.
"I can understand what he's saying because only Buckeyes know what police evidence is like," Robinson interjected, even drawing a huge laugh from the partisan Ohio State crowd.
Carter shot back with a crack about "the past year at Penn State," and Sapp became animated with laughter, leading Mariucci to plead: "Sapp, don't say anything. You're a Hurricane."
"The last time I saw Coach (Vince) Lombardi was on his death bed, it was horrible," Robinson said. "I just couldn't wait to go up to him, grab him, hug him, tell him how much I love him and what he did for me."
» Carter and Sapp might've had the strangest ritual for first-time Hall of Famers arriving for enshrinement. Let Sapp explain: "We were out on the golf course, and (Carter) got down on his hands and knees, and he said, 'Boy, you'd better come over and get some of this Canton grass in your mouth!' ... We got on the ground, in Canton, and kissed the grass with our mouths."
» Parcells, who was infamous for retiring and unretiring, joked that he might come back -- and bring Ogden, Sapp, Carter and Allen with him as "key veteran leaders of this new franchise we may be starting." One possible sticking point? "The first thing that we have to get squared away with at least three of them is what are the weight-clause provisions within the contract," the coach said. "Now I'm not going after anyone specifically, but a big dog is going to bark over there." Parcells was seated next to Allen and across from Sapp.
» Perhaps confirming Robinson's observation, Sapp called the stress of delivering his enshrinement speech "worse than game day." Said Sapp: "You know when you wake up in the morning and you think you're late for work, that cold sweat. ... It was right there that moment. Right there. I wouldn't want to do it again." Replied Mariucci: "You don't have to do it again because you're in forever, big guy."
Debate: Biggest Hall of Fame snub?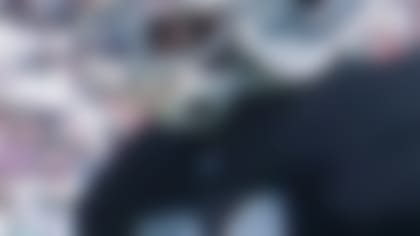 There are seven new Hall of Famers, but what about those left out in the cold. Our analysts campaign for Tim 
Brown and others. **More ...**
» Robinson hopes today's well-paid players remember the veterans like him who paved the way. "The reason people get $20 million contracts today is because we made the National Football League successful," Robinson said, to loud applause. "We played the game the people wanted to see. We brought them into the turnstiles. We made TV watch, we made the sponsors pay, and now they're reaping the benefits. I hope they understand that."
» Other enshrinees' votes for the next Hall of Fame class: Robinson for Jerry Kramer, Parcells for Eddie DeBartolo, Allen for Hudson Houck and Culp for Robert Brazile. Ogden and Sapp stumped for Charles Haley, with Ogden also advocating for Art Modell, whose mention didn't draw many boos from the Northeast Ohio crowd.