The Atlanta Falcons secondary was full of big names last season, but it wasn't particularly consistent. Now it's headed for an offseason full of big changes.
Last year's franchise player Brent Grimes is headed for unrestricted free agency after tearing his Achilles tendon. Safety William Moore is also a free agent after a terrific season. The team has two high-priced veteran cornerbacks in Asante Samuel and Dunta Robinson, but it's worth wondering if both players will be back.
Instant Debate: Best available star?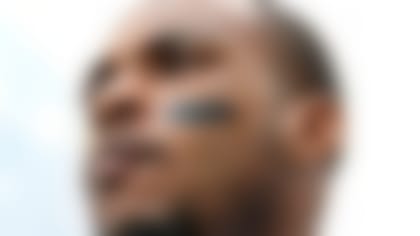 With trade rumors swirling and free agency looming, who is the best player available? Disgruntled Viking Percy Harvin? More ...
Robinson is the candidate to get released. As noted by Pat Yasinskas of ESPN.com, Robinson is due $3 million on the fifth day of the new league year in mid-March. Robinson is due $8 million total, which is a lot for a good-not-great starter. Robinson is a good tackler but not the guy that the Falcons expected in pass coverage.
A lot depends on Grimes here. If the Falcons can get Grimes under contract, they could feel better about letting Robinson go. The team could also look to renegotiate Robinson's contract if he was amenable to a pay cut. We suspect Robinson, only 30, will want all the money that his contract calls for.