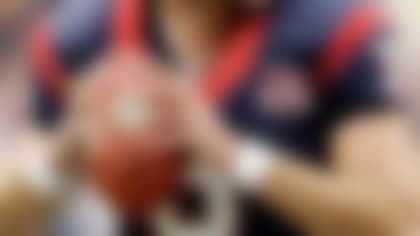 Our analysts provide Super Bowl picks with four Sundays in the books. Matt 
Schaub's Texans get love on the AFC side. More ...
"It was in a nanosecond," general manager Ryan Grigson told the "NFL AM" crew Tuesday morning about the decision. "It was with (owner) Jim Irsay on the phone. Chuck and I had talked prior to that and right out of our mouth was Bruce Arians. He was the logical choice, he the best choice, and it was Chuck's wishes. We all completely agreed -- the three of us. Bruce is the guy to carry the torch for coach."
Arians, who had his own cancer battle five years ago, says the other assistants won't change their roles. Arians will just take on more responsibility, including calling plays. Grigson said the team is in the process of moving on from a great shock.
"All you can do is give an outpouring of support for your leader, your coach, and start to move forward and do what will make him happy in his recovery," Grigson said.
"I know that in meeting with the players, meeting with the coaches, there's nothing more that we want than to get that Green Bay game ball and have a victory game ball and be able to walk into that hospital and put it in his hands," Irsay said during his Monday press conference. "That's our goal."