In an interesting -- and surprising -- twist, Harbaugh chose not to make a definitive statement on his future plans at quarterback. Instead, the coach said he "usually tend(s) to go with the hot hand."
"We really have two quarterbacks with a hot hand," he said. "We'll make that decision as we go forward."
Kaepernick stood tall against pressure, made all the big throws, and protected the football in a near-flawless performance. While Bears backup Jason Campbell was bullied by Aldon Smith & Co. all night, Kaepernick stayed clean and played like an All-Pro.
Instant Debate: Kaepernick or Smith?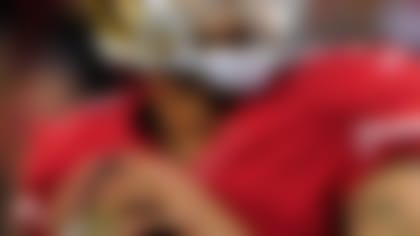 Given a chance to shine, Colin Kaepernick shredded the Bears. Should he start for the 49ers going forward? **More ...**
Harbaugh's postgame statements will only amplify the "Smith or Kaepernick?" debate, which becomes a running subplot for the rest of the week.
Even if Smith retains his job, Kaepernick is in his rearview mirror now. This is a Super Bowl-or-bust season for the 49ers, and Kaepernick won't waste away on the bench if Smith begins to struggle. Smith has won 20 of his 26 last starts, but he faces the very real prospect of a quick hook.
The plot thickens by the bay.